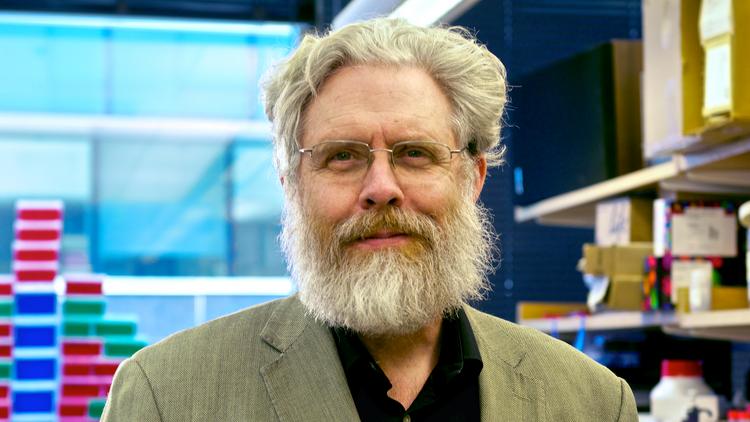 Harvard geneticist and serial biotech entrepreneur George Church has co-founded a new startup that aims to develop "designer proteins" targeting a range of disorders.
The company, called GRO Biosciences, was spawned in the Harvard Life Lab and emerged from stealth mode on Thursday with $2.1 million in seed funding. The financing was led by Digitalis Ventures, a health-focused fund based in New York, and Innovation Endeavors, a venture firm created by Eric Schmidt, the chairman of Google parent company Alphabet.
Church, who is best known for his pioneering work in gene sequencing, will lead GRO's scientific advisory board. The company says it's found a way to recode the genomes of bacterial strains in a way that could allow them to produce proteins that are more potent — and last longer — than traditional drugs. In particular, the proteins are designed to have stronger chemical bonds that are less likely to break down in a patient's blood.
"For decades, bacteria have been used as the workhorses of the biotech industry in the production of blockbuster therapeutics, and we believe that we can dramatically expand their utility by recoding their genomes,"
Church said in a statement.
He added that GRO's technology could lead to the creation of "a new universe of designer proteins with enhanced therapeutic properties at commercial scale."
GRO says it will seek to use the technology to develop treatments for diabetes, growth disorders and autoimmune diseases. The company is currently operating out of the Harvard Life Lab, a shared lab space for biotechs that are spun out of research at the university.
Church has co-founded scores of local companies, including Cambridge gene editing firm Editas Medicine and Danvers-based Veritas Genetics. Another of his startups, eGenesis, recently announced that it had used the CRISPR/Cas9 gene editing tool to create virus-free pigs whose organs could potentially be implanted in humans.